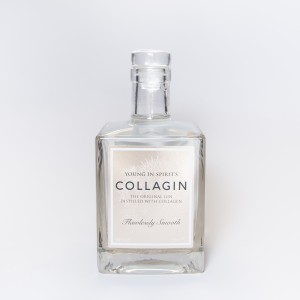 With eleven botanicals in total, the remaining botanicals featured in the gin include vanilla, pink peppercorn, angelica and liquorice, resulting in a smooth and fresh taste that can be enjoyed as a sipping gin, a cocktail gin or with the classic tonic water. A CollaGin G&T is best served with a slice of fresh pink grapefruit and star anise.
CollaGin is distilled with America's number one collagen brand which does not affect the taste, smell or appearance of the gin. Co-Founder Camilla Brown comments: "This really is the smoothest gin I have ever tasted and works so well in many different ways. We've used complementary botanicals and a dose of pure, powdered collagen to create a surprise and delight product that gets people talking."
Co-Founder Liz Beswick adds: "it took a year in the making and we have had many hurdles along the way, but we are so proud of the result. The gin is fragrant, soft and the aftertaste is velvety, with a hint of vanilla. It has been worth the highs and lows of starting our own business to beautify the world of
spirits."
Over 50m bottles of gin were consumed in the UK alone outstripping sales growth in beer and sparkling wine. Annual gin sales rose 20% to smashing through the £1bn barrier, and CollaGin is set to capitalise on this ever-growing market with their unique offering. It has also been announced today that the company has signed an exclusive partnership deal with the National Film Academy -producers of the annual National Film Awards UK to become the exclusive Gin sponsor for the 2018 awards ceremony! CollaGin will be sponsoring the Best Independent Film 2018 and sampling on all the tables at one of the UK's most prestigious film award shows.
Nominations for the Best Independent Film 2018 sponsored by CollaGin are;
God's own country
Film stars don't die in Liverpool
The Intent
Jawbone
My Name is Lenny
Lady Macbeth
Rise of the Footsoldier 3
Eat Locals
Voting is currently live here, and winners will be announced in March.
CollaGin is distilled in the Midlands, UK and bottled in Lancashire, UK. The bottle is 50cl at 40% proof and available now at DrinkSupermarket.com or  Collagin.co.uk for £34.99.
Get a taste of CollaGin at the National Film Awards UK taking place on the 28th of March 2018 or for more information. Visit: www.collagin.co.uk