FROM VERONA WITH LOVE…
Think back to your days at college – no English Literature lesson was truly complete without a dissection of the classic Romeo and Juliet tale, a story that belongs to a tradition of tragic romances stretching back to antiquity. If you need a reminder, the plot is casually based on an Italian tale translated into verse as The Tragical History of Romeus and Juliet by Arthur Brooke in 1562 and was later retold in Palace of Pleasure by William Painter in 1567. Another famous William known to most as Shakespeare borrowed heavily from both, but expanded the plot by developing a number of supporting characters, particularly Mercutio and Paris. Shakespeare's play – set in Verona, Italy – begins with a street brawl between Montague and Capulet servants who, like their masters, are sworn enemies. For those who don't know the rest, I wouldn't wish to be a plot spoiler so I'll let you discover this romantic story at your leisure.
Imagine for a second…being transported back in time and personally experiencing the scenes where Shakespeare's most famous tragedy took place. This mission (although impossible sounding) can actually be achieved, and is especially fitting this year as Verona celebrates the 400th anniversary of Shakespeare's death. So, when Lolli Hall from The Brandman Agency called and asked whether I would like to go to Verona, the land of Romeo and Juliet itself, it was a hard one to turn down. I proceeded to cancel my scheduled trip to Ibiza in favour of a historic journey down memory lane.
As I celebrated my big birthday party with the team in Cannes, I was somehow preparing my eyelids for a more cultured event in Italy. The day after my birthday, I departed Cannes, landed at Heathrow, was driven to my house for a quick change and was back on the road again to London Gatwick en route to Verona. As we arrived at Verona Valerio Catullo Airport we were picked up by the driver who gave us a whistle-stop tour of Verona.

Verona is a city on the Adige river in Veneto, Northern Italy with approximately 265,000 inhabitants. It is also one of the most popular tourist destinations in northern Italy owing to its artistic heritage, several annual fairs, shows, and famous opera season at the Verona Arena, the ancient amphitheater built by the Romans. The city has been awarded World Heritage Site status by UNESCO due to its urban structure and architecture. As we drove to our hotel, Palazzo Victoria it all started to make sense why Shakespeare decided to write three plays based in this city. As we settled in at our hotel, we were introduced to our team: Harriet Monaghan from Red Magazine; Katie Hutley from Fabric Magazine (who is happily expecting her first child); Giusy Loro, General Manager of Palazzo Victoria; Paolo Cazzin, Director of Sales & Marketing for Palazzo Victoria and of course Lolli Hall, PR representative at The Brandman Agency tasked to keep the team walking in a straight line especially after the rather strong cocktail mix we were served up during our light lunch at the Cafe Vittorio Emanuele in Piazza Brà.
As we sat at the round-table getting to know each other, talk suddenly turned to politics and more importantly the resulting fallout from the EU referendum. The quick debate concluded in someone – maybe myself – mentioning 'Berlusconi' (I think that was a perfect distraction from the political discourse as if by perfect timing!). We were pleasantly interrupted and whisked away for a quick private tour of Verona. We wandered into the city's most famous square, the Piazza delle Erbe. Here, the city's long history as an affluent trading place is revealed in brick and stone. Palaces, merchants' houses, towers and statues stand as a tribute to more than 2,000 years of business, while tourists from all over the world sit at the various outdoor restaurants trying to work out which of the buildings is which, according to their guidebooks. We had no such problem as our tour guide (who herself was expecting) was armed with the knowledge of every key historical detail pertaining to Verona.
We then congregated around one of Verona's most famous landmarks, its vast Roman amphitheater, known today as the Verona Arena. Built outside the city walls, in around AD 30, we are told by the guide that this building could accommodate over 30,000 spectators. In 1913, to celebrate the birth of Giuseppe Verdi, it also became world's largest open-air opera venues. Watching a performance here during the summer opera season is as much about the vast spectacle as it is about the music.
Later that evening, after dinner at Palazzo Victoria's Borsari 36 Restaurant on the new Piazzetta di Borsari 36 with dishes prepared by Executive Chef Carmine Calò, we were ready to witness what all the fuss was about by venturing into the Verona Arena to watch AIDA – one of Verdi's most known operas. The story revolves around an Ethiopian princess, Aida who is held prisoner as a slave of Amneris, the Egyptian King's daughter and the love triangle between Aida, Amneris and Egyptian General, Radamès who is secretly in love with Aida and she with him. Aida at the Verona Arena is a special experience where music and space combine to form the greatest of spectacles, in a space where a tradition of showmanship stretches back 2000 years to the Flavian emperors. It is extremely impressive how the stage, set and attention to detail transports you to an era never to be forgotten. The grand opening draws us into the inner worlds of the African Kings & Queens who ruled Ethiopia and Egypt during the bygone era. A multitude of eccentric scenes unfold, including the stage being flooded with ministers, priests and captains to a fire and brimstone brass war rally when the King enters to announce war against the Ethiopian army: an incredible spectacle with chorus singing that leaves you pretty much speechless at one o'clock in the morning. Then the stage drains again for Aida's dramatic sympathetic display of heartbreak, with inflated sand dunes emerging in the background to make her emotional isolation more striking.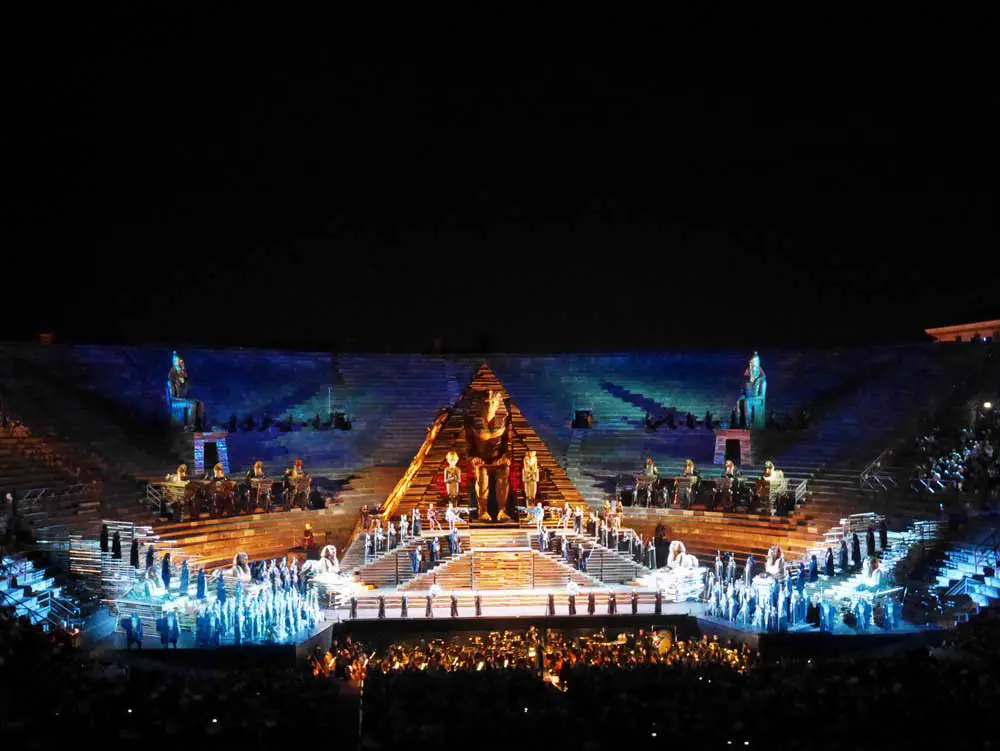 The cast put on one of the best dramatic performances I have personally experienced in a long time; the whole production was visually and musically mind-blowing. From the orchestra playing, the backdrop of Nile to Amneris and Ramfis gliding over the flooded stage in a boat amongst peacock-feathered reeds and wafting prayers from the hidden chorus. The stage gave way to the irresistible singing of Hui He's Aida and Fabio Sartori's Radamès in "Fuggiam gli ardori inospiti". Hui He was totally convincing in these moments of exotic seduction, truly making her presence felt throughout the entire performance. Sartori, on the other hand, pulled off the exceptional feat of growing into his singing throughout the performance, with his voice in the closing "La fatal pietra sovra me si chiuse" resonating around the amphitheater without a hint of tiredness. Don't forget, this was a four-hour operatic feast with strong performances from every single cast member. The audience seemed to be hypnotized into forgetting how quickly time had passed.
The next day, still reeling from the operatic performance, we left the hotel for the Allegrini Wine Estate tour. Allegrini is regarded as one of the most renowned wineries in Italy, famed for its Valpolicella Classico. The Allegrini Family have been producing wine for over four hundred years – quite fitting since we were celebrating the 400 year anniversary of Shakespeare's death. We were taken on a tour of the vineyard and the mansion which we are told was built in tandem with the notion of hell, heaven and the afterlife (apparently, intelligence and wealth 400 years ago in Verona went hand in hand with spirituality). Say no more…!!! is what I thought when we got down to the real reason why we were there in the first place. Yes, it was wine tasting time.. and needless to say, this was one wine tasting session that the whole team decided not to spit but swallow… Excuse the pun, oh ye of little faith with dirty minds… obviously, you know I mean it exclusively in a wine context. After tasting some of the best wines from the vineyard, we went back to Palazzo Victoria for a chance to explore what had been our home away from home in Verona.
Paolo Cazzin, Director of Sales & Marketing took us on a tour around the hotel (which includes its very own hair salon for the ladies) as well as the VIP suites. Palazzo Victoria is situated right bang in the middle of the town, a few steps from the balcony where Juliet may or may not have fallen for Romeo. You're just off the Corso Porta Borsari in the heart of Verona's compact shopping district with tourists young and old filling the nearby streets. But inside this luxury hotel you find a mix of creativity, elegance and contemporary style as well as added traditional touches. The hotel manages to strike the perfect balance of modern intervention and a throwback via original features such as the stone walls; the art of old meets new adds to the ambience of the hotel. Roman ruins peek out from under glass walkways and original frescoes. The additional human touch is not lost as each day we came back to our suites to be greeted by some sweet treats, gifts and an inspirational/romantic page in a book encouraging visitors to indulge in the charm of the place.
The hotel comprises of 74 rooms and suites, including Deluxe, Grand Deluxe, Grand Terrace Deluxe, Junior Suites and Suites, plus the iconic Victoria Suite which was by far my favourite. All rooms and suites are generously proportioned and most boast dramatic high ceilings. Some feature charming wrap around iron balconies and in-room antiquities, and all have been elegantly designed to incorporate the preservation of original Veronese décor and unique characteristics.
Hungry or fancy a drink? Then head to Victoria Lounge e Café'  which is the hotel's vibrant and dynamic concept bar offering an abundance of cocktails, prestigious wines and a vast selection of aperitifs to be enjoyed against a backdrop of Veronese décor. In a region rich of local cuisine and numerous eateries, Palazzo Victoria's restaurant concept Borsari 36, overseen by Chef Carmine Calò, is simple – to showcase the very best of Italian cuisine.
It's clear to see why Verona is an ideal destination for couples – Shakespeare was certainly on the right mark when he fell in love with this part of the world (ignoring the suicide bit at the end of Romeo and Juliet!). Would I come back? Yes, but with my girlfriend. Was it inspirational? Yes, of course. Would I recommend staying at Palazzo Victoria? Well, what other hotel will you find right at the epicentre of Verona, steeped in culture and reflecting the subject matter of your romantic quest? Once you are serenaded by the opera music playing in your suite and the brilliant service from the hotel staff at Palazzo Victoria, the only regret you will have is why you didn't discover this little gem when you were conjuring ideas for the perfect Valentine's Day surprise. At least that thought ran through my mind as I left for London – a truly romantic outcome that can only be attributed to the wonderful city of Verona!!
Palazzo Victoria is situated at
Via Adua 8
37121 Verona (VR)
Italy
To book, call +39 045 590 566 or visit palazzovictoria.com
Rates start from £121 per night for a Classic Room
Comments
comments