Mauritius or as the French will call it Maurice is an island steeped in tradition. Located in the Indian Ocean about 2000 kilometres off the south-East coast of the African continent. Translated, it is basically Africa at it's finest…The island of Mauritius was visited during the middle ages by the Arabs, then by the Portuguese who named it Dina Arobi and Cirne, respectively. The island was uninhabited until the Dutch Republic established a colony in 1638, with the Dutch naming the island after Prince Maurice van Nassau. Those clever Dutch are not only known for their wacky cakes in Amsterdam… pause…. Because I think there was some wacky cake interference as the Dutch colony was abandoned in 1710, and five years later, the island became a French colony and was named Isle de France.
The French got very excited due to its strategic position and referred to Mauritius as the "star and key" of the Indian Ocean.Well, as you might or might not know, we covered Mauritius for the Luxury Show a few years ago and you can join millions of viewers to relive the experience on our VooVix channel here. So, we decided to go back for the second time to make sure Mauritius could live up to our first journey to the Island several years ago. Our team on this trip included the perfect cast, Joanna Blyth, Laura French,Deborah Cicurel and obviously I was on hand to teach the girls swimming lessons.
A few minutes drive from the airport, we found ourselves opening the gates to paradise as we swooned into the Heritage Le Telfair. This luxurious, ocean front golf resort is a 4-minute walk from the Heritage Golf Club, 9 km from La Vallée Des Couleurs Nature Park and 16 km from the vibrant sand dunes at Seven Coloured Earth. Airy, refined rooms have balconies or terraces with garden, river or sea views, along with free Wi-Fi, flat-screen TVs, and room service. Suites add butler service, sitting and dining areas, claw-foot tubs and 4-poster beds; some have outdoor showers. Breakfast and golf are free. There's an outdoor pool, a gym and a spa, as well as 12 restaurants and bars. Diving and horse riding are offered; a kids' club and babysitting services are available.
As we settled down for lunch at Le Palmier hosted by Guillaume Lefebure we were joined by Catriona Stewart who completed the team. With jokes flying from one side of the table to the other and the perfect sea breeze emanating from the nearby beach. We kept pinching ourselves wondering what we deserved to have such difficult jobs. Sipping cocktails by the beach to the sound of waves can only be described as a terribly challenging task for a Friday afternoon. I feel your empathy!
Later that evening, after some well needed rest, we all assembled together as the 'Made in Mauritius' cast and made our way to Le Château de Bel Ombre . We were welcomed by Jacques Charles – Chief Operations Officer of Heritage Resorts. Now, the 'Château' in 'Le Château de Bel Ombre is not simply used as a ploy to create a nostalgic ambiance. The restaurant itself is a historic mansion with a dated past as a thriving sugar plantation. Apart from the interior décor, the traditional charm, and elegance of the building. The main ''pierce de resistance' is off course, the delicious menu and in the words of Jacques Charles "Le Château de Bel Ombre relies on fresh, local ingredients and puts new spins on traditional Mauritian dishes".
We retired back to the resort and despite myself and Laura French teaming up to encourage the Made in Mauritius cast to go out for a brief exploration of the Mauritius nightlife scene. Leader of the pack, Joanna Blyth took the sensible decision by offering us two options which made us choose the option she wanted in the first place. Reverse psychology at it's best. Myself and French were left dumb founded wondering how she got us to agree and proceed to our villas like well behaved kids at a nursery. Blyth, you should be a politician – (move over Theresa May)… !
The next morning, we enjoyed wonderful breakfast at Annabella's followed by a golf buggy drive to lunch at the Heritage Golf Club. The Heritage Golf Club is quite impressive to say the least and as a secret golf connoisseur like 'moi'. I was excited to play the field a few years back and i was hoping for a repeat performance. The Heritage Golf Club, was designed by Peter Matkovich and opened for business in 2004.The golf complex which was designed by Peter Matkovich and opened in 2004, comprises an 18 hole championship golf course, a 9 hole Par 3 course, exceptional practice facilities, golf academy, clubhouse, restaurant and golf shop. With 5 teeing options on each hole, golfers of all levels are catered for. Now, I am no Tiger woods but with statistics like that, pulling off your 'first tee' is guaranteed to be a walk in the park. Unfortunately, due to the heavens shedding tears of joy to celebrate our happiness we had to abandon the pull cart for dry shelter at the Club house.
Wondering what our next plan of action was? Well, there was only one feasible option after spending the whole day playing hard to get with the rain. We were escorted to the Seven Colours Spa for a 90 mins Coco Spa Ritual. To put it quite simply, words can't describe how relaxed we all felt after what seemed like an intense spiritual massage which was obviously geared towards cleansing your mind, body and soul.We concluded our evening with dinner at Anabellas.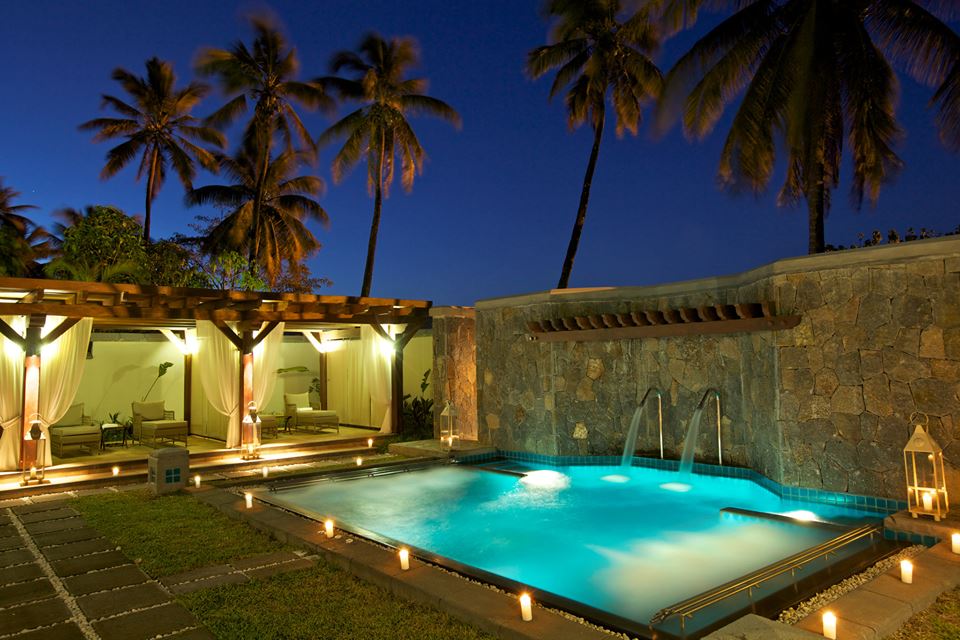 The next morning, I chose to explore the surroundings and take a tour to meet the locals who make Mauritius one of the most sought after destinations in the world. The Island is a blend of cultures, with a mix of Indian, African, French and Chinese heritage. Later that evening we had an Aperitif and dinner at Gin'ja, hosted by Khurshid Vayid – Communication Executive. Khurshid Vayid is what I call the 'game changer'.  She studied in London and is well versed on the London scene and she definitely knew where the party in Mauritius was taking place. She promised to introduce us to the real Made in Maurice cast (their version of Made in Chelsea….coming to a TV screen near you in the future). The first venue we  went to was 'Big Willies' which both Joanna and Laura found hilarious… I wonder why! I mean this is not a strange occurrence. Is it?? Perfectly normal. #OnlyinMauritius.
After a few drinks and watching an unknown British singer rock her adoring audience. We had paid our dues and moved on to the real after party at the Lakaz Cascavelle . All I can say is that the Mauritians certainly know how to party and the Brits were definitely giving them a run for their money. By, the time I was ready to bring out the killer moves from my memory collection of classic moves… I heard the famous last words…. Taxi…!!!
The most sensible word you can hear on a night out… The driver said, "you will thank me later" and the next morning I understood why.I got up to find myself in a very deep state of meditation… it was so deep that I missed the next activity of the day.
The girls however, took one for the team and enjoyed the Sea Kart Experience organised by MTPA (Mauritius Tourism Authority). In hindsight, when I saw pictures of how much fun was had by my fellow cast members. I put this on my to do list for next time.
Later that evening we were joined again by Guillaume Lefebure for dinner at Zafarani . As we enjoyed, the good food, great conversation and candid moments. Guillaume found himself agreeing to join the cast of Made in Mauritius. His job, was to weekly relay to us how the week was going via Skype to our live studio in London. Call it fantasy, we call it reality and we are sticking to it! By the time we reached our last day, everyone was well and truly addicted to this Paradise Island and the thought of boarding a plane back to Blighty was not at the top of our agendas.
We strolled to the C Beach Club to join the Kite Surf training. Expert kite surfers the world over are well aware that the big surf and steady winds off the reef here make it one of the best spots on the planet to enjoy their sport. Alas, we were neither experts nor semi-professionals at the craft but we gave it a good go! As you do… We were later invited to play tennis with protective helmets… Tennis legends, Serena and Venus Williams apparently invented this style of playing tennis although I should say allegedly because for some reason I think this was a joke taken way out of proportion (Pause)…. We decided to press play and return back to the C Beach Club and we were right bang in the middle of a wedding taking place at the beach front. You could have felt the romance in the air from the bride, groom and attendees. It was like watching your own fly on the wall documentary of the best beach wedding with you literally being the fly on the beach.
As the pastor asked if anyone on this beach had any reason why this couple should not be engaged in holy matrimony. I felt like shouting…. "Me… yes… me, because this is a perfect location and we are jealous in a good way…obviously. Now, you can continue" but I let it play out in my mind because Love conquers all and there was no need to make the front pages of the local Mauritius Gazette especially on our last few hours on the island… On that note, we departed Heritage Le Telfair for a short drive to the airport feeling like, we had just left our loved one sipping cocktails in the middle of the Indian ocean. Yes, because when you come to Mauritius you wouldn't want to leave this paradise island. As we got to the airport, a gentleman who worked for the airlines literally helped upgrade us to more leg room (not quite… first class but its the gesture that counts) as if we weren't impressed with the people of Mauritius. This was the icing on the cake to what had been a mission in relaxation and self discovery! On a serious note, with a plethora of stunning beaches, diverse culture, exciting activities and rich cuisine. If you are reading this and you are thinking of your next adventure. I am sure at this stage one sentence should spring to your mind.. "Say no more" and my response is check our fact box below for the much needed recommendations.
Thinking of travelling to Mauritius? Here is what Chelsea Monthly recommends:
Hotel
A deluxe room at Heritage Le Telfair starts from £260 per night (2 sharing) on a B&B basis
For further information call +230-266-9777 or visit www.heritageresorts.mu
Flights
British airways has flights from London Gatwick to Mauritius from £855 return, including taxes. www.britishairways.com
Tourist Information
For further information and to discover attractions on the island visit www.tourism-mauritius.mu
Sea Karting
The one hour Sea-karting experience costs MUR 5500 (approx. £100) This is per sea kart, which can fit two adults and one child between 6 and 12
For more information and to book visit: www.fun-adventure.mu/home 
Electro-Biking
Electro-bike excursion from £38.09pp for a 3 hour tour; £53.97pp for the 7 hour tour of the south.
For more information and to book visit www.electrobikemauritius.com
Tags :
British Airways
c beach club
chelsea monthly
featured
Guillaume Lefebure
Heritage Resorts
heritage telfair
Joana Blyth
Khurshid Vayid
Lakaz Cascavelle
Laura French
Le Château de Bel Ombre
Le Telfair
Maurice
Mauritius
Mauritius Tourism Authority
Only in Mauritius
Prince Maurice van Nassau
Sea Karting
Seven Colours Spa
Zafarani