Ibiza is one of the Balearic islands, an archipelago of Spain in the Mediterranean Sea. It's well known for the lively nightlife in Ibiza Town and San Antonio, where major European nightclubs have summer outposts. It's also home to quiet villages, yoga retreats and beaches, from Platja d'en Bossa, lined with hotels, bars and shops, to quieter sandy coves backed by pine-clad hills found all around the coast. So, when we decided to take the challenge to spend 48 hours in Ibiza, it was mainly because this mission actually reminded us of our  version of Hangover in Vegas but this time we were headed to the beautiful white isle right here in Europe..Just when the season was winding down. We landed in Ibiza ready to kick off the action… yes, because when everyone goes left. It's always great timing to take the right turn, especially when it comes to celebrating the launch of the Island's newest openings.We ended up checking into the five-star, 117-room hotel  OD Talamanca  which was fully refurbished for 2016, in a unique and modern style. This hotel offers luxurious accommodation in a fantastic location. The hotel is overlooking the picturesque bay of Talamanca and Ibiza Town giving spectacular views of the sunsets and sunrises on the horizon. The beach with its fine golden sands and clear blue waters is only a few metres away. Before we could settle to take in the Ibiza atmosphere we had drivers outside ready to whisk us off to lunch at Ocean Beach Club.
Opened in June 2012, Ocean Beach Ibiza was instantly popular, successfully filling a gap in the market for San Antonio outdoor party venues. From day to night-time fiestas, fine dining, fashion shows, acrobatics, live performances, massages and private events. This was our first break into what was to come in the evening. Great lunch, fantastic cocktails and even better company with the sunshine shining down on us whilst the DJ's played an eclectic mix of house music. Now that's what I called 'Balearic vibes'.  After we had exhausted our fist pumps and hands in the airs, there was no need for putting any airs and graces to the occasion as we were led barely sober back to the OD Talamanca to prepare for part 2 of our mission '48 hours in Ibiza' .
As the clock hit 7.00pm, we were chauffeured to what was our next location, STK Ibiza which was a short ride away from Talamanca in the exclusive Marina Botafoch complex  opened its doors in July. The restaurant/nightclub brings you an up to date  modern take on the American steakhouse in the heart of Ibiza town. STK is known worldwide for its excellent food and a guaranteed feel good experience .
STK Ibiza bills itself as "not your usual steakhouse" and so there's a 'raw bar' with a great selection of the finest seafood, serving up ceviches, oysters and a raw tuna tartare.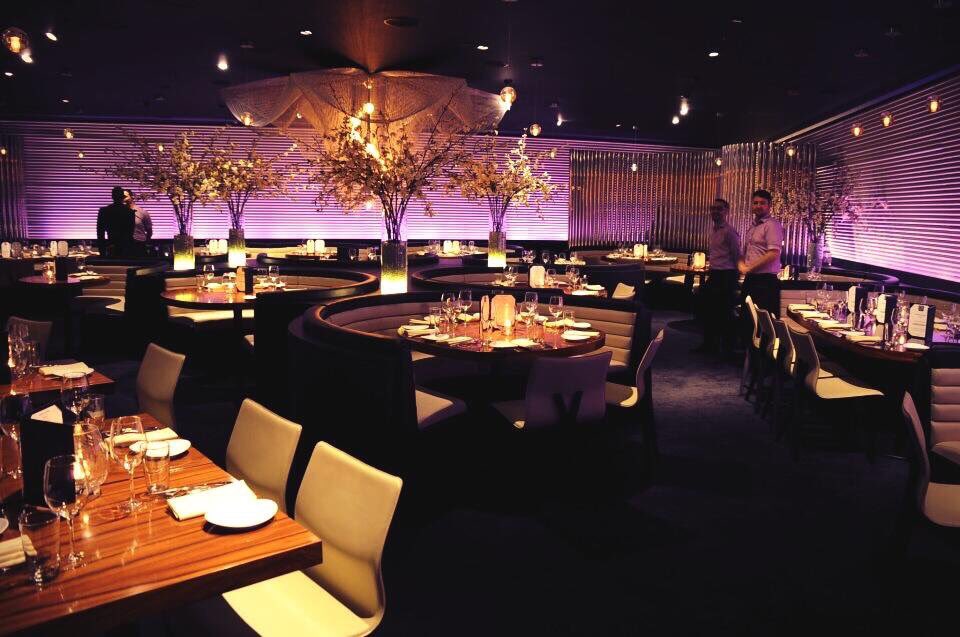 There is an excellent selection of delicious starters and salads such as the soft shell crab slider, lobster fish fingers, stuffed courgette flowers or heirloom tomato salad with creamy burrata cheese. Desserts are a mix of classics and local dishes such as churro milkshake with dulce de leche ice cream, passion fruit crème brulèe and fairground candy floss. You can choose from an excellent selection of drinks with cocktails made by award-winning mixologists. Do try their signature drinks, such as the Lemon Stiletto, and a Martini flavoured with rose petals.
STK Ibiza offers a stylish and contemporary venue that blends a modern steakhouse backed with sparkling entertainment, including live acts and guest DJs. As well as the main restaurant lounge, there is a pretty outside terrace with ocean views and two private dining rooms for special occasions. On the night, we attended we were serenaded by performers, circus acts, dancers and much more.. This was way before the party had started and come dessert, It is  fair to say that the whole club erupted into the biggest party.. call it 'natural progression'.
From excellent waiters, to delicious food. STK Ibiza may have nailed it in terms of creating a playground to do Ibiza like a grown up!!  Not, that partying it up with your hands in the air is out of style but there is huge demand for the more mature options and STK actually caters for both but with an addition of slick style to add into the mix. In their own words "If there's one thing we know how to do at STK, it's throw a party. We're about reinventing the traditional and putting our playful twist on everything" and if that's not enough for you to explore for yourself then don't blame us for missing out on all the fun!
STK Ibiza is located at:
C. Illa Plana S/N Ibiza
Marina Botafoch
Spain
For more info on STK Ibiza see:  stkibiza.com
For more info on OD Talamanca  see www.od-hotels.com
For more info on Ocean  Beach Ibiza see www.oceanbeachibiza.com
Tags :
48 hours in Ibiza'
chelsea monthly
chelsea monthly ibizA
circus acts
dancers
DJs.
featured
Ibiza
Marina Botafoch
Martini
mixologists
OD Talamanca
performers
restaurant reviews
STK Ibiza