Vicky Madelyn talks all things catering!!
Chelsea Monthly Newspaper talks to Vicky Madelyn, CEO of Just Cos Catering, on company strategies, running a successful catering business, and dealing with competition.
How did you start Just Cos Catering and what was the inspiration behind starting your own catering business?
My Sister Priscilla and I both bring a combination of 22 years experience in the Catering Industry. We have been the sole caterers for all events at our local church and at friends' and family's celebrations. We come from a Large Ghanaian family and brought up in the UK, with celebrations every month, be it birthdays, anniversaries or Christmas, there is always the need to gather to eat. Even though we appreciate our African background, we are influenced by a large array of diverse cultures, the likes of Mediterranean, English, Oriental and Asian to name a few which is reflected in our menus. Our critics have been our children, nieces and nephews who do not hesitate in critiquing our cooking. Our kids have Michelin star palates and we suppose they get this from eating Grandma's and our cooking.
In August 2011 whilst on vacation in Portugal, we decided to replicate a dish we'd had in a very prestigious restaurant the night before, and got amazing reviews from our Michelin Star Critics who then advised us to quit our day jobs to start Just 'Cos Catering so that everyone is able to indulge in what they taste every day.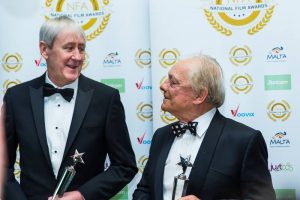 What have been the most exciting projects and events you have done since you started?
Being the official caterers for London Waste Ecopark, we are privileged to be the Caterers for the prestigious Annual London Mayors' Lunch Event. We have been and still are the caterers for Deluxe Digital Technicolor Christmas events for the past 5 years and of course becoming official partners of this year's National Film Awards. However the most exciting and challenging project was catering for Professor Stephen Hawking
and his crew at a London Film Studio. When we initially received the call, we thought it was a prank until we received the confirmation email. Professor Hawking follows a gluten free diet with additional dietary requirements, therefore a great challenge, at the same time exciting. We had amazing reviews from the man himself, a very rewarding and awesome experience!


You recently became official catering partner for the 3rd annual National Film Awards and received amazing feedback from your catering, service and delivery. How was that experience for you?
My goodness…. Knowing we were catering for 350 celebrity guests who dine at the finest eateries, we found ourselves again challenged and excited. It was manic but we had a ball through the chaos and worked tirelessly to ensure our guests enjoyed every bite. We are pleased to hear the amazing feedbacks and look forward to many more.
What type of customers do you aim to target with Just Cos Catering and what makes the service you offer different from any other competitors?
All food Lovers! For us it's about the taste and being personable with our clients. We are a very friendly bunch always smiling and mingling with our guests. We always make them feel at home whilst enjoying a fusion of flavours.
If you have a belly, it's bound to be filled up with good nourishing wholesome food. We are aware of the stress that comes with this industry however we try not to take the whole business too seriously; it is food after all, so we aim at delivering the best taste, service beyond every expectation with loads of passion and fun. With music always playing in our kitchens, and an atmosphere of culinary explosions you are guaranteed to be taken on a taste bud journey!

Where do you see Just Cos Catering in the next 5 years?
Opening Restaurants, food trucks across London and getting our 'Just 'Cos' Brands in a supermarket near you.
How can clients get in touch with you?
By calling us on 0208 364 0209, 07931134433, 07506720679 email: info@justcoscatering.com
Website: www.justcoscatering.com
What are your top 5 tips in providing a top catering service?
1. Understanding every client's needs and prompt response to email and phone enquiries
2. Never taking criticisms personally and respecting clients' honest feedback
3. Working your butt off to deliver the taste, service beyond every expectation
4. Passion in everything you do!
5. Enjoying what you do and a service with a smile!
Tags :
chelsea monthly
don'tmiss
featured
home
Just Cos Catering
National Film Awards National Film Awards UK
NFA
Vicky Madeline