Tom Foolery : The LA Based Fashion Brand Shaking It Up
Processed with VSCO with f2 preset

The fashion brand Tom Foolery, known for its ethical approach to fashion were announced by the National Film Academy as one of the bronze category sponsors of the National Film and TV Awards 2018. The National Film Academy hosts the annual National Film Awards in the UK, and took the prestigious awards over to the US on the 5th of December. The US version of the awards titled National Film & TV Awards will be held annually in the US to celebrate all the successful film releases and established, emerging, breakthrough performances and filmmakers in motion picture and television. Nominations for all categories will be open for academy members and film/television fans to both nominate and vote each year.
The founder, designer, creator and brains behind Tom Foolery is Shannon Ashford, with a goal "to dress you to match the beauty within" describing these rompers "as the perfect manifestation of the energy and adventure of a tomboy packages as a classy lady, made for the daring and refreshingly original".
Tom Foolery is a problem-solving, ethically made clothing brand dedicated to using recycled material to create beautiful products. Each jumpsuit is made from recycled plastic bottles collected in Haiti (perhaps one of the most remarkable aspects of this brand) and they hope to set an example of integrity and stylish sustainability.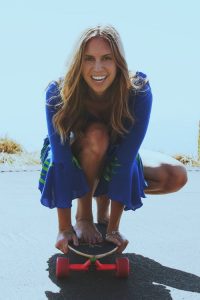 Shannon Ashford, Founder and Lead Designer commented "We thought it was high time jumpsuits paid attention to the basic needs of the female body. This design was inspired by that third trip the bathroom when you just don't feel like stripping down to your skivvies so you take that oh-so-risky shot by pulling your romper to the side and praying your aim is better than your decision-making. The solution was simple: a wrap jumpsuit featuring a waist that can be untied and dropped down revealing the bum. No more clutching your naked chest, no more jumpsuit around your ankles on the precarious bathroom floor."
Tom Foolery provides bespoke and handmade clothing, with custom fitted jumpsuits to ensure that your order fits perfectly. Their garments show class and elegance, whilst at the same time are practical and are suited for your every need, whatever the occasion.
To find out more about Tom Foolery, visit their website https://www.tomfoolery.la and check out their social media pages below:
Instagram | Twitter | Facebook | Pinterest
Tags :
entertainment
fashion
featured
la
National Film Awards
travel